Who doesn't love getting a facial?  For those of you who have never received one, you are missing out on one of the best ways to treat yourself to the ultimate and relaxing spa experience.  If you are looking for an excuse to pick up the phone and book your next facial appointment, here are five reasons why you should: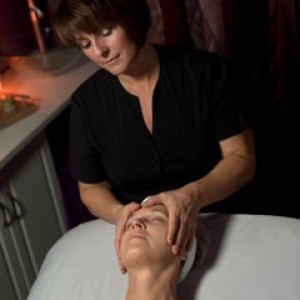 One – Facials are one of the best ways to deeply cleanse your skin.  To maintain a healthy, youthful glow you must keep your pores free from a build-up of oils and toxins.  During this 30 to 90 minute procedure, we will spend most of the treatment purifying, exfoliating and extracting which will all help in promoting healthy cell growth, as well as combating the signs of aging.
Two – Exfoliation is one of the key steps in a healthy skincare regimen.   A high quality facial will provide you with a thorough exfoliation treatment.  Being the largest organ of our body, our skin builds and sheds millions of cells a day.  It is important to regularly slough off the dead skin cells in order for new, healthy cells to grow.
Three – All facials include some type of massage.  The most popular benefit of a facial is that it is relaxing.  Laying on a warm table designed for your personal comfort, listening to soothing music and receiving a massage can be an exceptionally relaxing experience.  But, if you ask any professional in the industry, they will tell you a massage delivers many more benefits to your body than just relaxation.  During a facial, the massage sequence that the Esthetician performs is entirely designed to detoxify the body by increasing circulation aiding in the rejuvenation of your skin.
Four – Not all facials are created equally, but they should all be performed to accommodate your skin type, or issue.  Whether you are experiencing breakouts or dehydration, we will use products and procedures that will treat your specific skin.  If you are constantly battling issues with your skin, try getting a customized facials on a regular basis to keep them under control.
Five – We all crave some type of pampering in our lives.  A facial can be a cost-effective and rewarding way to treat yourself on a regular basis.  A monthly customized treatment with your us will go a long way in maintaining a youthful appearance, as well as a radiant, healthy glow.
Our facials are customized to each individual and their skin care needs. We use Eminence Organic Skin Care from Hungary, PCA and Rhonda Allison brand products – the results are simply amazing! All our years of discovery and professional experience are here to benefit you immediately, all in a friendly, relaxing environment.
Pricing
The Facial Deluxe – $300
The ultimate custom targeted skin rejuvenation facial.
Microdermabrasion exfoliation prepares skin for a multi-layer peptide peel followed by manual lymph drainage and a finish of LED light treatment customized to your skin condition.  Includes hand, eye and lip treatments.
The Supreme Facial – $150
This treatment is the ultimate relaxing experience.  Includes the Organic Farm Fresh Facial, brow shaping, lower leg and food massage.  Enjoy feeling revitalized and refreshed.
Organic Farm Fresh Facial – $100
This is a custom facial utilizing seasonal fruits, herbs and veggies from Eminence Organic Skin Care. A thorough cleanse, professional stimulating exfoliation and extractions followed by hand made masques, serums and moisturizers.  Hand, arm, neck and shoulder massage is included.
Biodynamic Facial – $100
Hand harvested plants grown by Biodynamic farming philosophies offer the highest levels of facial healing for the skin.
Best for highly reactive, sensitive skin needing calming anti-inflammatory results.  Includes acupressure facial massage.
Teen Facial – $85
Skin care instruction and tips on how to prevent breakouts are included in this facial that targets acne.  A deep pore cleanse, extractions, customized masque, serums and moisturizer will help purify and detoxify the skin using only the finest organic products.
A 24 hr cancellation or rescheduling of appointments is required. You may be charged for missed appointments.