We use Cirepil's low temperature waxes. The wax is applied at or just above skin temperatures (often 20-30 degrees below most waxes on the market) ensuring a comfortable waxing experience.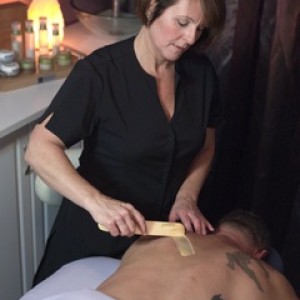 Cirepil is manufactured in France by Perron Rigot, the company that holds the patents on formulas for low-temperature waxes and is the inventor of no-strip disposable wax.
Cirepil's hard wax is used for the face, underarms and bikini area. A hard wax doesn't require a strip for removal, it hardens and can quickly and easily remove it by hand. This wax is perfect for people with sensitive skin who are prone to irritation and ingrown hairs that other waxes leave behind.
According to SkinBlends.com, "The beauty of Cirepil's hard waxes is that the wax attaches itself to the hair ('shrink-wraps' it) and not the skin."
We know how potentially uncomfortable waxing can be; Therefore we have carefully selected the best wax on the market and when applied by skillfully trained licensed estheticians such as ourselves, we are positive your waxing experience will a pleasant one!
Pricing
Eyebrow $15-20
Lip $10
Chin $15
Full Face $40
Arms $45
Under Arm $25
Back or Chest $55-60
Neckline $15
Half Leg $45
Full Leg $80
Bikini $35
Extended Bikini $45
Brazilian Wax $55-60
A 24 hr cancellation or rescheduling of appointments is required. You may be charged for missed appointments.