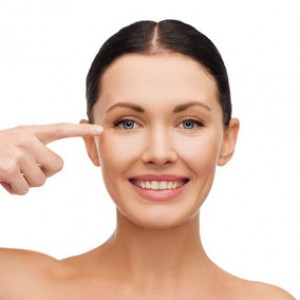 Go look in the mirror. Do you see some hills and valleys on your face? These are all a part of a character map that defines your life.
If you smile a lot, you will see some lines along each side of your mouth. If you spend much of your time outdoors, you may have some lines around your eyes from squinting in the sunlight. Definitely, a smoker will have a collection of fine lines all around the mouth. And, for the people that wear their heart on their face, you probably see fine lines everywhere. These are the lines that represent your life: your story.
Fine lines and wrinkles can show up at any age: they are not just for older mature skin. Advanced signs of aging are noted by cross-like lines all over the cheek area. Genetics play the heaviest role in the aging process but environmental factors, stress, and an inadequate diet all play a role in how your body ages.
But how do you determine the amount of damage on your skin? Raise your arm and compare your facial skin with the skin on the underneath of your arm. The skin located under the arm is barley exposed to the elements so it is good healthy skin. Exposed areas of the body are subject to environmental stress that creates a breeding ground for Free-Radicals. Free-Radicals are mentioned, frequently, but do you know what it means?
A Free- Radicals are an unstable molecule that must destroy a healthy cell in order for it to survive: they are found everywhere. Cellular waste, environment, sun exposure, and a bad diet can leave the body full of Free-Radicals. Our own cells make Free-Radicals and when they are unstable they cause great damage to all of the organs in the body. There is no escaping. And, regardless, of any Skin Care that you use, you still need to take in consideration that prevention is the cure. If you flood your body with water, antioxidants, vitamins and minerals, this will slow down the aging process in and outside of your body.
We all want to look our best and if you haven't been nice to yourself, it is time to take action. Also, if you are educated about what actually causes any problem, you will be more a little more careful about the choices you make for better health and skin.