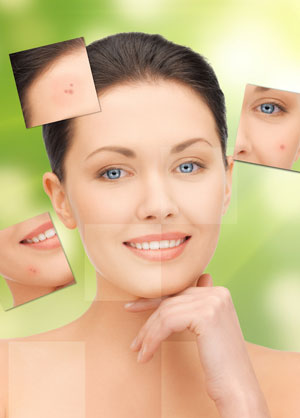 Acne. The images that appear in your head when you hear this word varies from person to person. Regardless of your version of Acne, it is can be a self esteem killer for a person at any age. The skin care industry makes an out-right fortune selling over the counter products that make false promises. Before you add yet another bottle of product to the countless others that did not work, try a few things to help you at least prevent future out-breaks.
Cleansing:
Everyone knows they need to wash their face but how you wash your face is the most important step in Acne prevention. Every evening before you go to bed, wash your face once then wash it a second time. On the second cleansing, use a soft facial brush to ensure your face is completely free of any oil or makeup. There are electric cleansing brushes available on the market, but if you have very active acne, you possibly could just spread the infection all over your face. A foaming cleanser or infant bath wash is a good all purpose cleanser without being too harsh.
Toner:
You should always use a Toner after you wash your face to help keep your pores small. The bigger your pores are, the more debris from building up and causing breakouts. Use cotton disks instead of cotton balls and scrub the Toner into your skin to get it deep into your skin. Acne begins at the deeper levels of your skin so this step is important. Something to consider: laying a clean face on a dirty pillowcase defeats anything that you have previously done. It is a good idea to change your pillowcase every night.
Food:
We all know that we are what we eat but if you are serious about clearing up your Acne, you should really keep a record of what you eat. Keeping a food journal and comparing it with your breakouts can really help you pinpoint what contributes to your Acne. Some people have minor allergies to certain ingredients which can aggravate an already annoying problem.
Supplements:
There are two supplements that can be added into your diet that can aid the body in the fight against Acne. Vitamin C and Zinc helps the skin turn over to heal itself faster.